NIN - lady
Today's Sumerian word is "nin", which means "lady, mistress, queen". You can see how one of the parts of the sign is the sign "
munus
", which means "woman".
This sign is often part of divine names. However, oddly, sometimes it is part of the name of male gods, such as Ningirsu or Ningišzida. (In these names, we translate it "lord".) This has led to speculation that these gods were in fact originally goddesses.
Nin is pronounced like the first syllable of the English word "ninny", and it looks like this: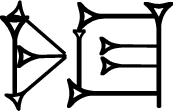 Comments {3}